How to Receive Email Reports For Newly Published Third-Party Products
One available feature of using the Patch My PC Publishing Service is the ability to receive email alerts each time new updates or applications are published to SCCM.  The email alert contains a detailed report of all of the new updates published and/or applications created.
Configuring SMTP Settings
In order to receive email alerts, the SMTP setting must first be configured.  Under the "Proxy and Notifications" tab in the Patch My PC Publishing Service, provide your SMTP settings in the provided area.  Include the sender, recipient(s), and SMPT server with associated authentication and port info.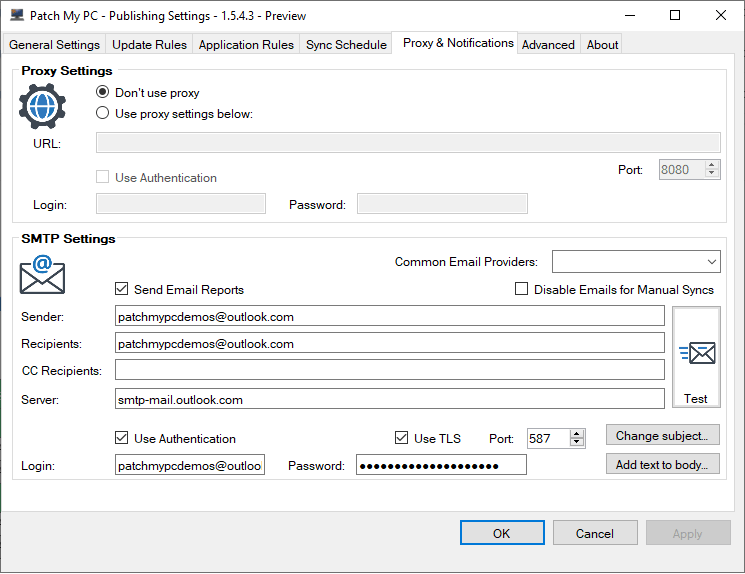 Running Publishing Service Sync and Receiving Email Alert
After completing a publishing service sync, you will receive an email report in the inbox of the address that was provided in the Recipients field. If all updates and applications were published successfully, the email will look similar to the one shown below.

Published updates are categorized by time of publishing, size, classification, and severity.  Each update also has an associated CVE-ID.  Clicking on the CVE-IDs in the report will open up a web page for that CVE-ID's entry in the CVE database.  The update titles in the left column are also clickable links.  They will take you to the associated vendor's release notes for that particular update.
Error Reporting
The email alerts will also notify you of any updates or applications that failed to publish during the publishing service sync.  A Helpful link to a resolution may be included in the report if the failure was due to a common error.

The report will also include warnings if you are trying to publish an update that requires a manual download into a local content repository.