Troubleshooting SMTP Email Report Sending When Using Patch My PC
This article covers steps you can take to troubleshoot emails failing to send within our publishing service. Our automated email reports can be helpful to keep you informed when third-party products are publishing. These emails contain a lot of useful details like release notes, update classification, severity levels, and CVE IDs, as shown below:

If you can't send emails, the problem is almost always related to the SMTP server configuration. Here are common issues we see that we recommend checking:
Incorrect SMTP Server details
SMTP port and protocol
Verify all usernames and passwords
Firewall settings
Topics covered in this article:
Step 1: Check Your Ports
One of the most common issues we see is the ports defined aren't correct for the customer's SMTP server. By default, our service is configured to use Port 587 and Use TLS. These are the default settings for many public email providers like Office 365, Outlook.com, and Gmail.

If you are using an internal SMTP server, it may be different such as the default Port 25, or it may not be configured for TLS.
Step 2: Is Authentication Required?
Another common issue is that your SMTP server may require authentication, but you didn't enable the checkbox to Use Authentication and set the login and password.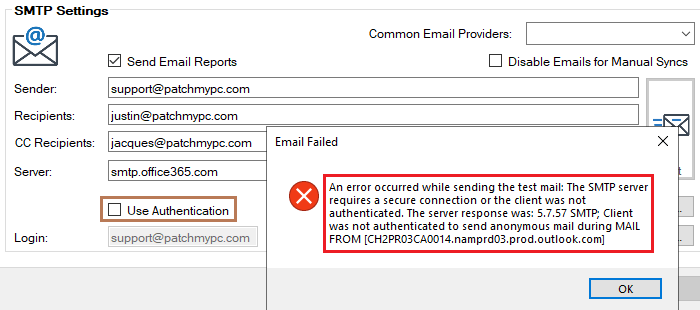 Step 3: Does Sending Work in the UI But Not During An Automated Sync?
In some cases, you may be able to send a test email manually in our UI by clicking Test, but emails to send during a synchronization with errors in the PatchMyPC.log

Generally, this is because your SMTP server allows domain accounts to send emails, but doesn't allow anonymous users to send. Since our settings tool UI is running under your local user context, it will enable the email to send. However, our service runs synchronizations under the local SYSTEM account as a service that may not be allowed to send emails through your SMTP server.
In this scenario, try to configure an authentication account:

Step 4: Try Using A Common Provider?
If sending is failing using an internal SMTP server, you can attempt to use a public email service. Click the drop-down menu and select your provider, if supported, we will pre-fill server, port, and TLS settings. You will need a valid email and password and ensure the outgoing ports aren't blocked.

Step 5: Ask You Email Team To Verify Settings and SMTP Logs
If you have a dedicated team for email, we recommend having them review all the configurations within our tool.
We Hope This Helped Resolve Your Issue
Hopefully, this guide helped resolve your issue. Generally, we are going to be very limited in the support we can provide for SMTP emails as the sending is all performed on the SMTP server.