Have a Question?
Please use the contact us form below for general questions. For technical support, please use the technical support page.
If you are contacting us to receive a quote for our third-party update catalog for SCCM, please use the request a quote form.
FAQ's
We have a list of some of the most common questions we get to save you some time.
If you don't see your question below, please send us an email using the contact form at the bottom of this page.
What's the Difference Between the Basic and Enterprise Catalog Subscription?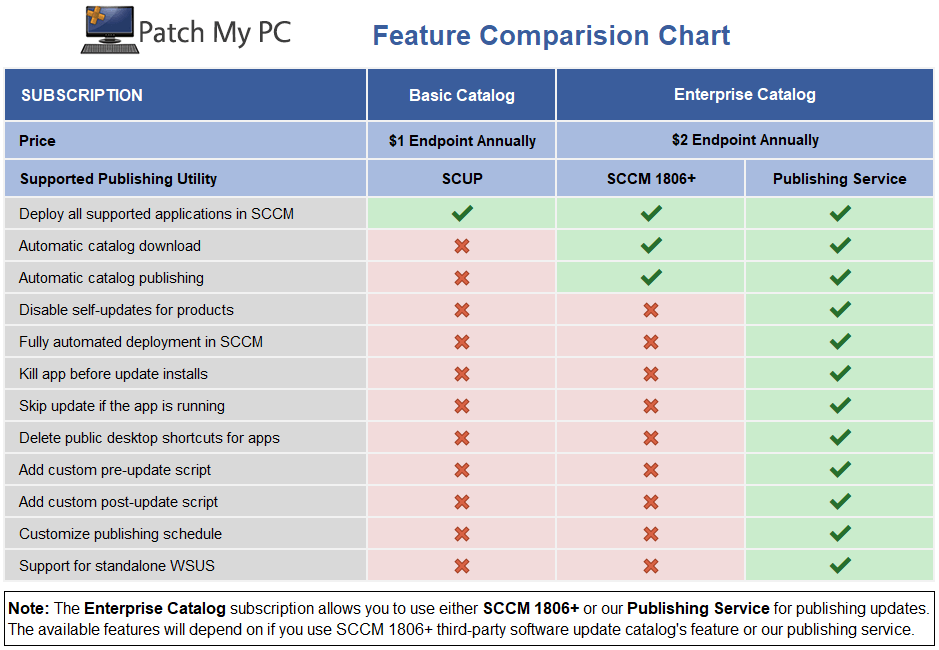 The Basic Catalog subscription will only support publishing our catalog to WSUS from Microsoft SCUP. SCUP publishing doesn't support automated publishing. You will need to manually import and publish third-party updates whenever there is a catalog update.
The Enterprise Catalog would support publishing our catalog automatically using our publishing service or the SCCM 1806+ third-party software update catalogs feature. Our publishing service does support extra customization options (See Chart Above) that wouldn't be available when using the SCCM 1806+ in-console publishing feature.
Is There a Trial Catalog Available for Proof of Concept?
How are Update Binaries in our Catalog Tested for Malware?
Can I Exceed the Purchased Client Count Within a Subscription Year?
We try to reduce friction for our customers wherever possible. We allow up to 25% client growth within a subscription year from the initially purchased device count. We determined 25% growth will cover normal device fluctuations within one year period.
If you are in a scenario where the growth has exceeded 25%, please use our contact form to determine if a true-up for the current subscription year would be required.
Can I Use the Same Catalog Subscription in Multiple Environments?
You can use the same catalog subscription in multiple environments as long as the client count for all locations where factored into the initial purchase.
For example, you could use the same catalog subscription in Development, Quality Assurance, Production environments.
Where Can I Find Documentation for Setting up the Third-Party Software Update Catalog?
Are Discounts Available for Education, Non-Profit, and Large Volume?
Education Discounts
We offer a standard 10% discount for education customers. Please let us know in the comments on the quote request form if you are in education.
Non-Profit
We offer a standard 10% discount for non-profit organizations. Please let us know in the comments on the quote request form if your organization is non-profit.
Volume Discounts
We can offer volume discounts for larger environments. Volume discounts generally start around the 5,000 devices.
Are Multi-Year Subscriptions Offered?
Starting on December 1, 2018, we now offer a 3-year subscription option for our Enterprise Catalog subscription.
We only offer a 1-year subscription level for the Basic Catalog subscription.
Can I Purchase Through a Reseller?
Becoming a Reseller, Purchasing as a Reseller, and Reseller Discounts?
How to Become a Reseller:
All you need to do is purchase our third-party software update catalog in your client's name (a contract is not required). On our quote request form, you need to choose the option that you are a reseller and enter your client details in the additional prompts for catalog delivery.
Details Required when Submitting a Reseller Quote:
In the quote request form, choose "Yes, I'm purchasing for another customer" for "Are You A Reseller Purchasing For Another Company?"

You must enter the end user company name, contact name, and contact email. We require the end user contact details for subscription delivery and expiration notifications.

You will need to ensure you get your client's current computer count for the quote for the following question.

Reseller Discounts:
We can provide a reseller discount of 3%. Due to our highly competitive base pricing, we can't offer a higher reseller discount.
Can I Request A New Product Be Added to the Third-Party Software Update Catalog?
Absolutely! We are always love adding new products that would provide value to our customer base!
We have approved the majority of requested products. The criteria for approval is the product's installer/updater has the necessary detection logic, supports a silent installation, installs under SYSTEM context, and has a publicly available download URL for the update binary.
A list of products requested and approved products are available on our application request page. You can request a new application on our application request page.
What is the Turnaround Time for Third-Party Software Updates to be Added to the Catalog?
Generally, we can detect, validate, and release new updates on the same day the vendor's release the update.
Updates released later in the afternoon (EST), are generally not published in our catalog until the following business day.
Can I Use the Third-Party Software Update Catalog with Standalone WSUS without SCCM?
Yes, our publishing service has the capability in the advanced tab to make third-party software updates visible directly in the WSUS console so you can deploy third-party software updates without requiring Microsoft SCCM.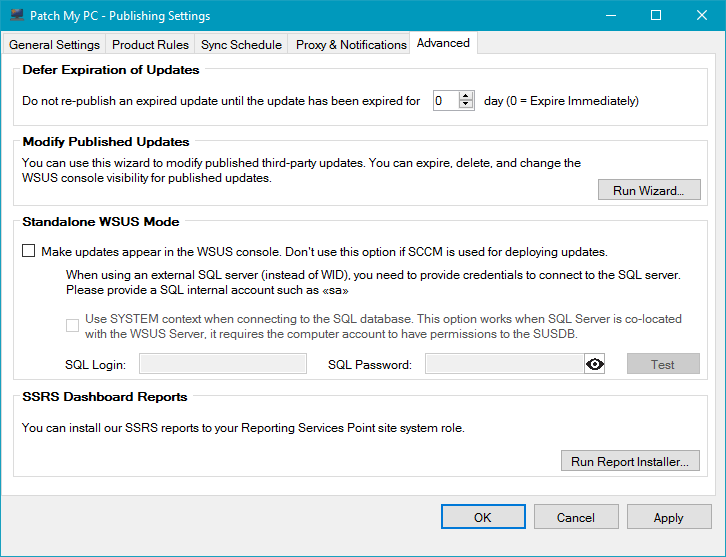 How Are Updates in the Catalog Tested for Installation Success?
We test update logic (Installable and Installed) against multiple operating system and architectures. We ensure all updates are detected and installed correctly in two separate test labs. Our labs contain the following OS platforms:
Windows XP (x86) - No longer tested as of 01/01/2018
Windows 7 SP1 (x86)
Windows 7 SP1 (x64)
Windows 8.1 (x86)
Windows 8.1 (x64)
Windows 10 (x86)
Windows 10 (x64)
Windows Server 2008 R2 (x64)
Windows Server 2012 R2 (x64)
Windows Server 2016 R2 (x64)
Do I Need to Manually Download and Import the Catalog Each Time It's Updated?