Local Content Repository for Licensed Applications that Require Manual Download
In this video guide and knowledge base article, we will review how and when you need to manually download installers in order to use the Local Content Repository feature.
The following products currently require a manual download of the installer files due to being behind a paywall portal or for EULA reasons:
Cisco AnyConnect Secure Mobility Client
Java Runtime Environment 8 (x64)
Java Runtime Environment 8 (x86)
Java SE Development Kit 8 (x64)
Java SE Development Kit 8 (x86)
To support the publishing of third-party updates and base installation package creation for products that require manually accepting a EULA prior to download or are behind a paywall, you will need to download the installer files in order for the automated publishing to completed for the products listed above.
Video Guide for Local Content Repository Instructions
Please review the step-by-step video guide for information on how to publish products that require manual download.
Note: if you are using SCCM 1806+ publishing please review the video above as that publishing method is not covered in the text version of this article below.
Local Content Repository Instructions – Publishing Service
When you enable a product that requires a manual download, you will receive the following message when you click Apply.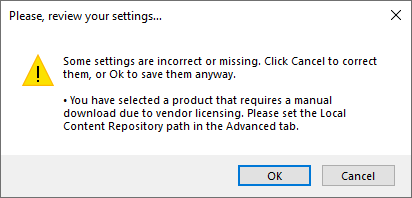 This message will let you know you need to configure the folder in the Advanced tab that our publishing service will use to search for installers that are required for enabled products where the download can't be performed directly online.

The folder you define in the Local Content Path will be the location the publishing service searches through when attempting to publish third-party updates. You will need to download the EXE or MSI installer for products that require manual downloads.
In the example above, we defined a UNC path of "\\sccm\Sources\Software Updates\Third-Party-Updates-Local-Repository". In this folder, the Java installer files for Java 8 Update 211 have been downloaded as shown below. Note: if you use a UNC path, the computer account of the server running the publishing service will need read and modify permissions.

We highly recommend enabling email notifications from the Proxy & Notifications tab. If we are unable to locate the installer file during a publishing attempt, you will receive an email listing the specific updates that need to be manually downloaded as well of the expected file name.

These emails are especially helpful because they will let know when action is required on your part to download installers when new updates are available for licensed products. 
Local Content Repository Instructions – SCCM 1806+ or SCUP Publishing
If you are using SCCM 1806+ in-console publishing or System Center Updates Publisher (SCUP), you will not be able to define a custom folder for the local content repository. Instead, you need to use the path specified in the catalog metadata.
The path used in the catalog metadata for any licensed updates is: \\LocalHost\PatchMyPCRepository\<FileName>

In order to set this path, create a shared folder on the top-level WSUS/SUP server shared as "PatchMyPCRepository".
Once created, simply download any update installers that require manual downloads from the vendors pay portal. In the example below, we downloaded Java 8 Update 211 and Java SE Development Kit 8 Update 211 into the local content repository folder.