Troubleshooting License Activation Issues
This article details common reasons why the license validation may fail within our publishing service. If you're facing a license activation error similar to below, this will be the guide for you!

Almost all license validation issues are related to proxy and web filters. Here's a list of things to check:
Step 1: Are You Using A Proxy?
If a proxy is required for internet access within your environment, you will need to configure the proxy in the Proxy & Notifications tab and apply the new settings before the license can be successfully validated.

Step 2: Web Filters and Firewalls
The most common issue with license activation is web filters blocking the web request. For the license to be validated, please ensure the following traffic is allowed through any web filters.
| Domain | Port | Protocol |
| --- | --- | --- |
| patchmypc.com | 443 | HTTPs |
Step 3: Verify the patchmypc.com SSL Certificate is Trusted
If trusted root certificate updates are disabled via windows update, the SSL certificate used for patchmypc.com may not be trusted.
On the server running the publishing service, open up internet explorer and navigate to https://patchmypc.com/. In the address bar, check the certificate lock to see if it's trusted.
Click the lock icon then click View certificate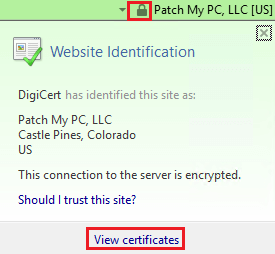 Click the Certificate Path and validate the certificate for patchmypc.com is trusted.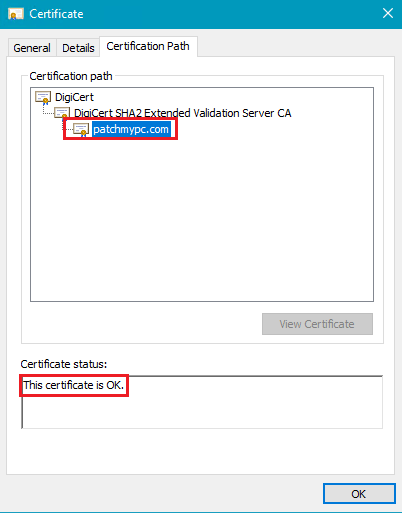 If the certificate is not trusted, import the root certificates for DigiCert so the certificate is trusted.