Third-Party Patch Management for SCCM
Easily extend Microsoft SCCM to patch over 270 third-party updates across 152 common enterprise products. Let us handle the tedious work of packaging, testing, deploying, and troubleshooting application updates in your SCCM environment.
Save time, money, and stay secure by automating the publishing of third-party updates to your environment. You can even configure automatic deployment rules in SCCM for complete control and automation over third-party patch management in your enterprise. Initial setup only takes minutes. Try it for free today!
Catalog + Automation
Automated Publishing of Updates
Patch 150+ products in SCCM
SCUP not required

Standalone WSUS Compatible

Publishing email notifications

Multi-user support
SCUP Catalog Only
Manually Publish Updates with SCUP
Patch 150+ products in SCCM
SCUP Only (Manual Publishing)

Automated publishing

SCCM In-console Publishing

Standalone WSUS Compatible

Custom Pre/Post Scripts

Publishing email notifications

Multi-user support
Maximize ROI
Maximize your investment in SCCM. Save time and money by reducing the need to package application updates manually.
Money-Back Guarantee
30-day money-back guarantee, no questions asked.
Support Included
Email, forum, and phone support are included at no additional charge.
Simple Setup
No additional client agents are required.
System Scalability
Existing SCCM site systems are used to scale deployments.
Close Apps Automatically
Automatically close the applications processes before performing the application update.
Skip If Apps are Running
Skip the application update if the applications processes are in use and auto-retry the update during the next update cycle.
Choose Between Full-Content and Metadata-Only
Easily switch updates to use either full-content or metadata-only for the publication type.
Delete Public Desktop Shortcuts
Remove desktop shortcuts after applications are updated automatically.
Customize Update Installation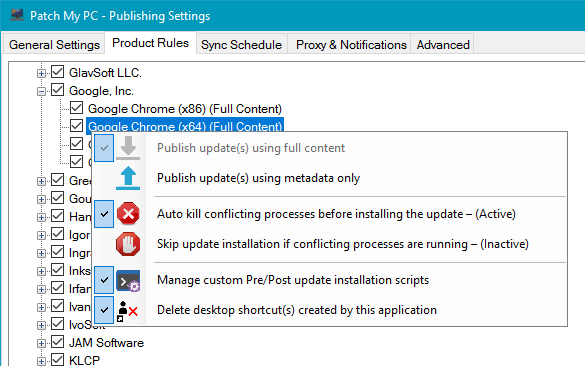 Competitor Pricing Comparison
| | | | |
| --- | --- | --- | --- |
| PC's | PatchMyPC | Lumension 1 | SolarWinds 2 |
| 500 | $500 | $15,000 | $6,330 |
| 1,000 | $1,000 | $30,000 | $9,545 |
| 5,000 | $5,000 | $N/A | $34,850 |
Free Trial Download
We have a free trial catalog that you can use for evaluation purposes. No sign-up forms required to download and install the trial catalog!
If you would like to test additional applications that aren't in the trial catalog, please use our contact form.
See What Our Customers Are Saying About Our Catalog
Prior to using Patch My PC's catalog, I used to spend hours porting updates into our environment taking time away from my other administrative tasks. Now I no longer have to keep on the lookout for new updates and scramble to add it to WSUS. The value is quickly realized in my work hours making this subscription easily pay for itself.
John Dietz
The Patch My PC catalog has saved me so much time. I used to spend so much time packaging Java installations every time there was an update. I was pleased to learn that I could also keep Skype, Zoom, Audacity and other applications that we use up to date also. I spend a fraction of the time I used to have to spend on updates. It is the best spent money in my budget. If I was unable to get our subscription approved, I would pay for it out of my own pocket. Don't tell my boss.
Ponce Hatch
Excellent service. We started the subscription just for being able to control Java updates via SCCM/SCUP. For Java alone the small cost is worth it. The SCUP update is usually available with a half day of the original vendor update, which is great. Thanks!
Kevin Thorwesten