How to Use Automatic Deployment Rules (ADRs) with Patch My PC Updates
Setting up automatic deployment rules for Patch My PC updates is simple. In the guide below, we will review the basics of ADR's for Patch My PC updates and how you can include or exclude specific products.
Topics covered in this article:
How to Setup an ADR for Patch My PC Specific Updates in ConfigMgr
If you want to create an automatic deployment rule specific to Patch My PC third-party software updates, we recommend using the following criteria.
Superseded = No
Update Classification = Critical Updates, Security Updates, Updates
Vendor = Patch My PC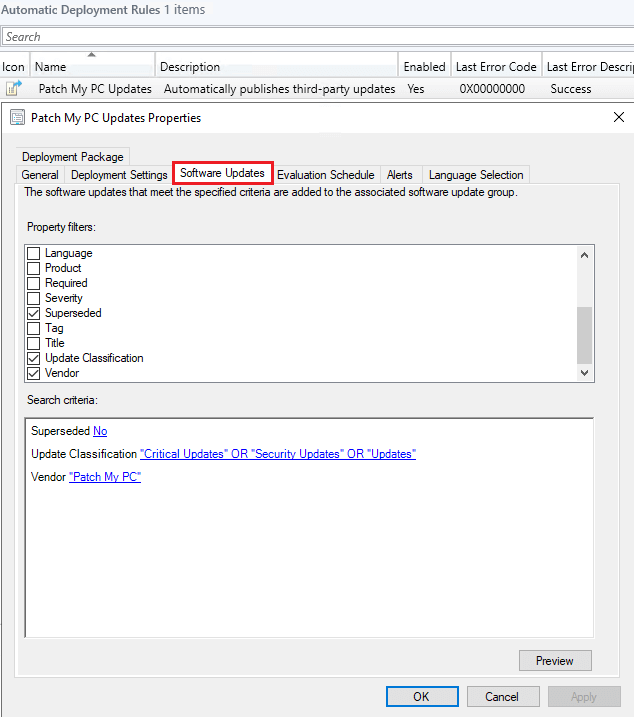 If you want to include or exclude specific products in your ADR criteria, please see the section Excluding or Including Specific Products in Automatic Deployment Rules.
Note: Patch My PC uses a single vendor and product due to limitations on how many third-party categories and be published to WSUS. For more information, you can review Publishing operation failed, too many locally published categories.
One common mistake we see is when customers create a deployment package, they specify the WSUSContent folder and the deployment package source. If the WSUSContent folder is specified as the package source, ConfigMgr will automatically delete all the third-party update content published to the WSUSContent folder causing updates to fail to download into a deployment package.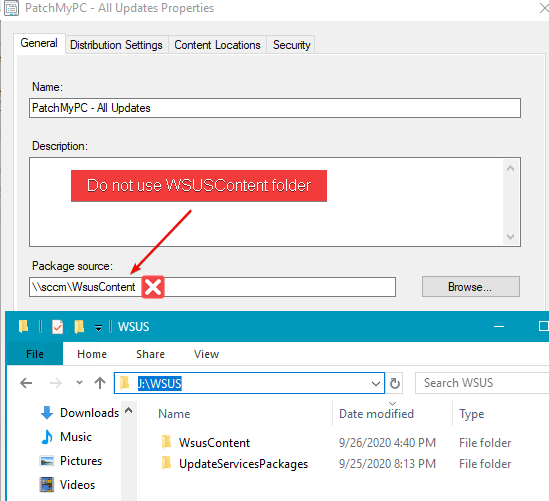 Each Time the Rule Runs and Finds New Updates
A common question we get is whether to use the "Create a new Software Update Group" or "Add to an Existing Software Update Group".
Create a new Software Update Group (SUG)
Can assist with reporting in some cases.


Software Update Reports commonly target a SUG. When you have a SUG for each ADR run you can get good point-in-time reporting
The 'release date' of a patch can offer similar info, but if you care about the exact time a patch was deployed in your environment for the first time, creating a new SUG each time is your only option

Each SUG will have a smaller number of updates.


There is a limit of

 

1000 updates per SUG
Generally, this is not an issue for third party updates, as you will not have this many non-superseded updates
Add to an existing Software Update Group
Keeps count of Software Update Group's low, one per ADR. No need to maintain SUG sprawl.
Can make it more difficult to do a staggered rollout of updates
If your ADR creates any deployment with a DEADLINE shorter than your ADR evaluation period, you will see some machines potentially never update.


Example: ADR Runs and has a schedule set to daily

Creates deployment with a deadline in the future, 7 days for example, which will be 7 days from the time the ADR runs
ADR runs again the next day, previously created deployment now has deadline pushed out again based on settings. Machines targeted by this may never hit their deadline.

The key to keep in mind is the ADR will be using the same SUG, AND it will be overwriting the deployment for that SUG each run as well.
Note from Microsoft Docs: Decide whether to add software updates to a new or existing software update group. In most cases, choose to create a new software update group when the ADR runs. If the rule runs on a more aggressive schedule, you might choose to use an existing group. For example, if you run the rule daily for definition updates, then you could add the software updates to an existing software update group.
Excluding or Including Specific Products in Automatic Deployment Rules
In some scenarios, you may want to remove specific updates from an automatic deployment rule. You can use the title filter to exclude the specific update title from the ADR search criteria.
Here's an example of an ADR that will deploy all Patch My PC updates with no filters: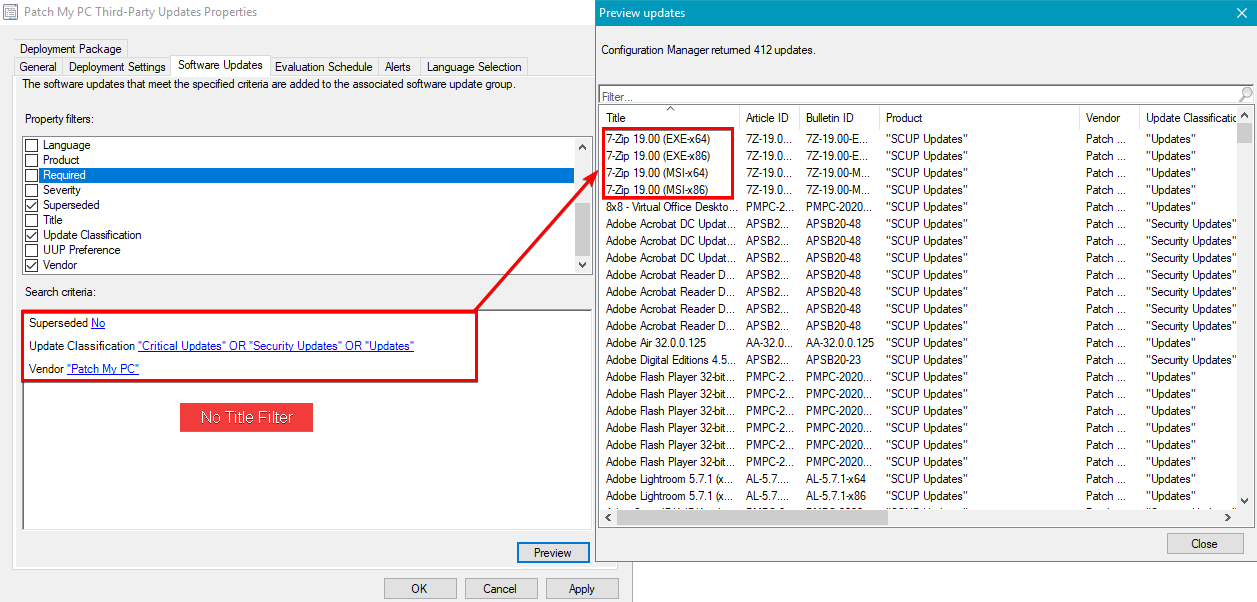 Here's how you can add a title filter if you wanted to exclude any 7-Zip update from your ADR. Title: -7-Zip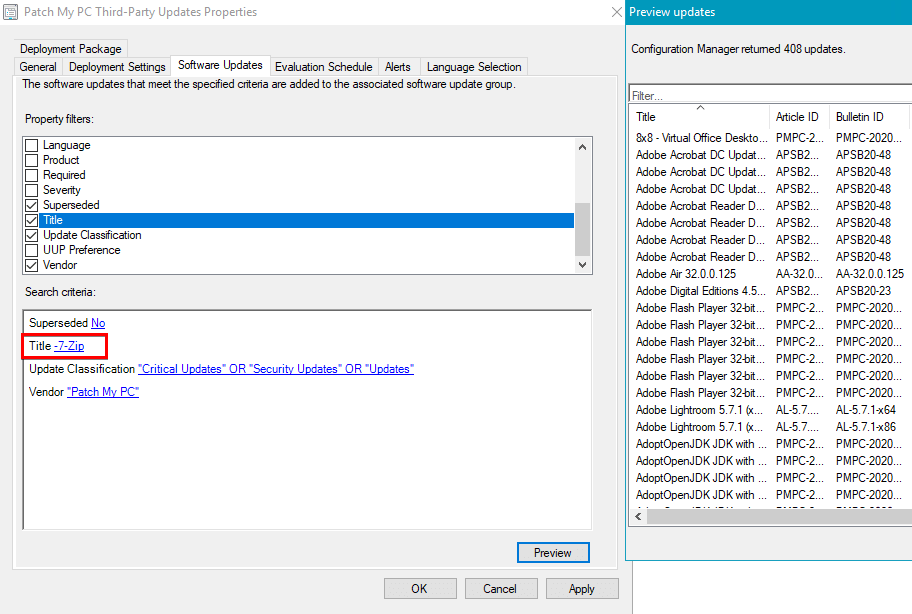 If you want to include specific products in and ADR, you can remove the – before the title filter, as shown above. 
Full List of Titles for Products in Our Update Catalog
You can find a full list of the title filters to use to exclude specific products below:
7-Zip
8×8 Virtual Office Desktop
Adobe Acrobat DC
Adobe Acrobat Reader DC
Adobe Air
Adobe Digital Editions
Adobe Flash Player 32-bit/64-bit ActiveX
Adobe Flash Player 32-bit/64-bit Plugin
Adobe Flash Player 32-bit/64-bit PPAPI
Adobe Lightroom
Adobe Shockwave Player
AdoptOpenJDK JDK with Eclipse OpenJ9
AdoptOpenJDK JDK with Hotspot
AdoptOpenJDK JRE with Eclipse OpenJ9
AdoptOpenJDK JRE with Hotspot
AirServer Universal
AirSquirrels Reflector
AirSquirrels Reflector Teacher
Allway Sync
Amazon Corretto
Amazon WorkSpaces
Apache Tomcat
Apple Application Support
Apple Bonjour
Apple iCloud
Apple iTunes
Apple Mobile Device Support
Apple Quicktime
Apple Safari
Apple Software Update
Attendant Pro
Archi
Articulate 360
Audacity
Autodesk Design Review 2018
AutoHotkey
Bandicam
Bandicut
Beyond Compare
BlueJeans
Blue Jeans Outlook Addin
Box Drive
Box For Office
Box Sync
Box Tools (Box Edit)
Camtasia
CCleaner
CDBurnerXP
Charles
Cisco AnyConnect Secure Mobility Client
Cisco WebEx Meetings
Cisco Webex Productivity Tools
Cisco WebEx Teams
Citrix Files
Citrix HDX RealTime Media Engine
Citrix Receiver
Citrix Workspace
Classic Shell
ClickShare Launcher
CPUID CPU-Z
Crypto Prevent
CutePDF Writer
Dell Command Update
Dell Display Manager
DisplayFusion
DisplayLink
Docker
Dropbox
Egnyte Connect
ESET Endpoint Security
ESET File Security
ESET Remote Administrator Agent
Evernote
FastStone Capture
FileZilla Client
FlashBack Express
Foxit PhantomPDF
Foxit Reader
GanttProject
Garmin Express
GIMP
Git
GoodSync
Google Chrome
Google Drive File Stream
Google Earth Pro
Google Picasa
GoToMeeting
GPL Ghostscript
Greenshot
grepWin
HandBrake
HipChat
Huddle
ImgBurn
Inkscape
IrfanView
Jabra Direct
Jaws
IZArc
KeePass
KeePassXC
K-Lite Basic Codec Pack
K-Lite Mega Codec Pack
LastPass
Lenovo System Update
LibreOffice
LogMeIn Client
Malwarebytes
MapInfo Pro
Mersive Solstice Client
MicroDicom Viewer
Microsoft .NET Core Runtime
Microsoft .NET Core: Runtime & Hosting Bundle
Microsoft .NET Core SDK
Microsoft Azure CLI
Microsoft Azure Storage Explorer
Microsoft Edge
Microsoft EMET
Microsoft Mouse and Keyboard Center
Microsoft Power BI Desktop
Microsoft SQL Management Studio
Microsoft SQL Server Reporting Services
Microsoft Teams
Microsoft Visual C++ 2015-2019 Redistributable
Microsoft Visual Studio Code
Mimecast for Outlook
MinuteTraq
Mozilla Firefox
Mozilla Firefox ESR
Mozilla SeaMonkey
Mozilla Thunderbird
mRemoteNG
Nextcloud Client
Nitro Pro
Nitro Pro Enterprise
Nmap
Node.js
Node.js LTS
Notepad++
NSClient++
OCZ SSD Utility
OpenOffice
Opera
Oracle Java 6/7 (x64) to Java 8 (x64) Migration
Oracle Java 7
Oracle Java 8
Oracle Java SE Development Kit 8
Oracle MySQL Workbench
Oracle VM VirtualBox
Paint.NET
PDF Split And Merge
PDF24 Creator
PDFCreator
PDF-XChange Editor
PDF-XChange PRO
PeaZip
PhraseExpress Client
Pidgin
Plantronics Hub
Plex Media Player
Poll Everywhere
PowerShell Core
Programmer's Notepad
ProjectLibre
PuTTY
R For Windows
RealTimes (RealPlayer)
RealVNC (VNC Server)
Remote Desktop Client for Windows Desktop
Remote Desktop Manager Enterprise
Remote Desktop Manager Free
Right Click Tools
RingCentral Meetings
RingCentral Phone
RISA-3D
RISAConnection
RoboForm
Royal TS
RStudio
Python
Screenpresso
ShareX
SketchUp Make 2016
SketchUp Pro 2016
SketchUp Make 2017
SketchUp Pro 2017
Skype
Slack
Snagit
SnapGene Viewer
Splunk Universal Forwarder
SRWare Iron
Sublime Text
SyncBackFree
Tableau Reader
TeamViewer
Telerik Progress TestStudio Ultimate
Terminals
TightVNC
TortoiseGit
TortoiseHg
TortoiseSVN
TreeSize Free
UltraVNC
VitalSource Bookshelf
Vivaldi
VLC Media Player
VMware Horizon Client
VMware Remote Console
VMware Tools
VMware Workstation
VMware Workstation Player
VNC Enterprise
WebDrive
WinMerge
WinRAR
WinSCP
WinZip
Wireshark
XMind
XnView
Yahoo! Messenger
Zoom Meetings
Zoom Outlook Plugin
Zoom Skype for Business Plugin
Zscaler Client Connector
Removing/Filtering Specific Updates from Automatic Deployment Rules (Video Guide)
The video guide below describes how to use title filters to exclude products from ADRs with Patch My PC.