Patch My PC Home Updater Overview
Our Home Updater is a free, easy-to-use program that keeps over 300 applications up-to-date on your computer. It is an easy way to update or install a large list of programs on to your computer.
A key component of staying safe online is keeping your computer up-to-date. Hackers love targeting outdated software. Outdated software often contains security vulnerabilities, bugs, and other issues that are often resolved in the latest version. These are some of the reasons why it's essential to keep the apps updated (or "patched").
When you open Patch My PC Updater, it will scan your system for outdated programs.
Outdated programs will be shown in – 

Red

Updated programs will be shown in – 

Green

Not-installed programs will be shown in – 

Black
Whether you are a computer novice, semi-tech savvy, the go-to tech person for your family and friends, or an IT professional, Patch My PC's Home Updater will make patching your PC easy.
Patch My PC Home Updater Download
Click the button below to download the latest version.
 &nbsp
Features of Patch My PC Home Updater
Patch My PC Home Updater Features
Updates over 300 common apps check ✔ including portable apps
Ability to cache updates for use on multiple machines
No bloatware during installations
Applications install/update silently by default no install wizard needed
Optionally, disable silent install to perform a manual custom install
Easy to use user interface
Installs 64-bit apps by default on 64-bit windows
Optionally choose to install 32-bit apps on 64-bit Windows
Change updated and outdated apps color for color blindness
Option to automatically kill programs before updating it
Portable and only about 1.5MB
Create a baseline of applications if installing on new PC's
Quickly uninstall multiple programs
Scan time is usually less than 1 second
Set updates to happen on a schedule
Skip updates for any application you don't want to update
Suppresses restarts when performing application updates
Community Support
The Patch My PC community provides free support to our users on our support forum.
Stay Secure
Hackers target vulnerabilities in outdated software to compromise your PC.
Save Time
Save time by automating the installation and updating of over 300 applications!
IT Pro Options
Plenty of options for IT Pro's to make their day to day jobs easier.
Portable
Patch My PC is a portable app and less than 2MB.
Quality Testing
Updates are tested thoroughly for detection, installation, and malware.
Watch The How to Guides for the Home Updater
If you're a PC user only using a few computers, the guide below will show you the basics of using our software.
If you're an IT Pro using our software on multiple computers often, please review the more technical guide below showing advanced options.
Home Updater Supported Products List
Patch My PC Home Updater supports installing and updating ~250 applications! The list below will show every application that we support installing, detecting, and auto-updating. We are always looking to expand our support product list drop us a note on our forum if you want to see a new application added.
You can always request more to be added using our vote for new applications page.
List of Portable Products:
 &nbsp
Patch My PC Home Updater Common Questions
Have a question about our free home updater? Here you will find common questions we get about our Home Updater. If you don't find what you need, you can always get in contact with our team using our support forum.
What Are The System Requirements?
Microsoft .NET Framework 4.5
Internet access
Note: the Home Updater is supported on Windows 7 and newer operating systems
Where is the Release History for Patch My PC's Home Updater
Uninstalling Patch My PC Updater
Patch My PC Updater is a portable application meaning that it doesn't install on your PC. To uninstall Patch My PC, simply delete PatchMyPC.exe.
Can I Export The Setting From The Options Menu?
Yes, you can use the "Export Settings To PatchMyPC.ini button in the options menu to export the current settings. This will download and configure a file named PatchMyPC.ini in the same folder as PatchMyPC.exe. If the PatchMyPC.ini file is in the same folder as PatchMyPC.exe, the settings will be configured on a new PC.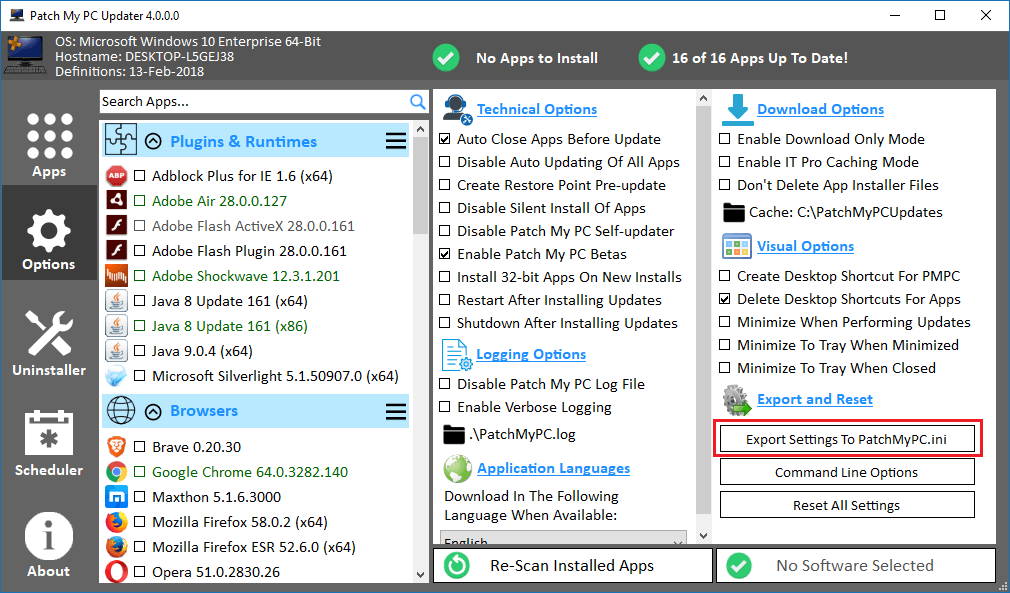 Adding Apps As Auto-Install?
Yes, you can right-click any application and choose the option "Add as auto-install in PatchMyPC.ini". This will mark the selected applications to automatically install from Patch My PC.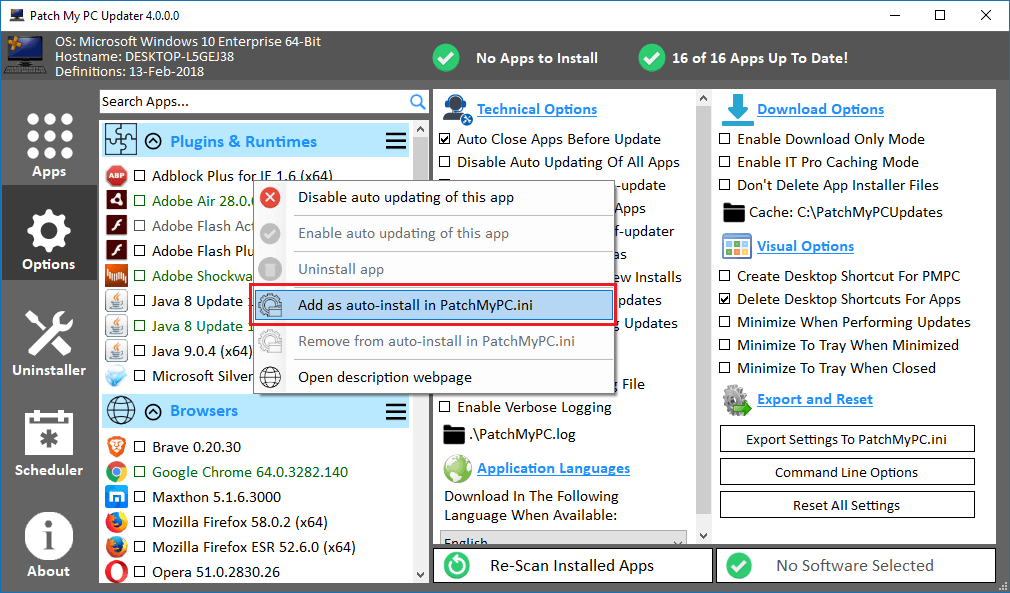 Disabling Auto Updating Of An App?
Yes, in the option panel, you can check any application you want to always skip in the "Don't Update These Apps:" section.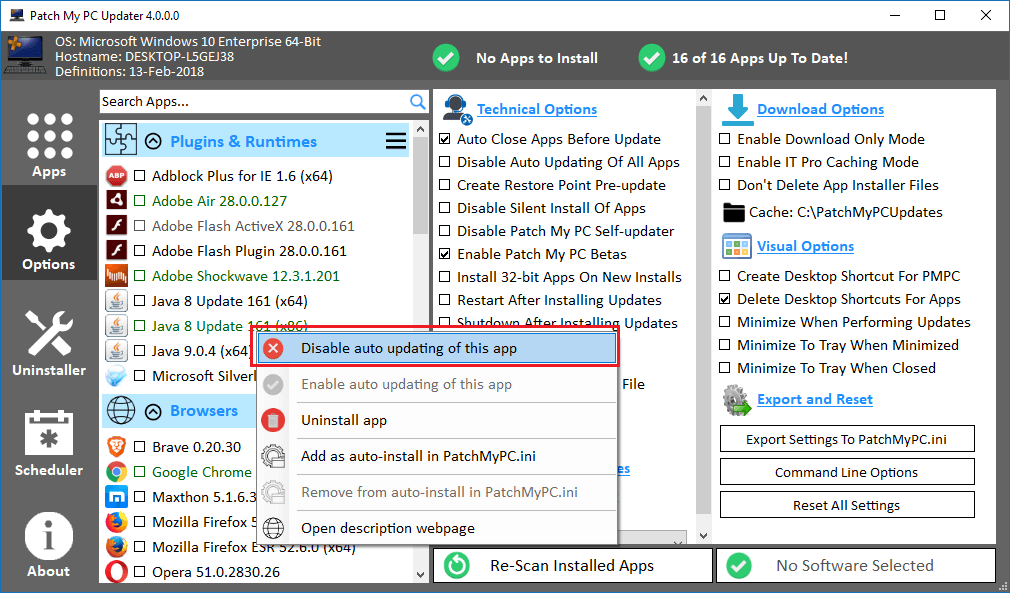 Can Patch My PC Updater Automatically Update Software On A Schedule?
Yes, Patch My PC Updater can be set to run on a schedule and update any outdated applications. Simply go to the Schedule tab and select how often and the options you would like to use.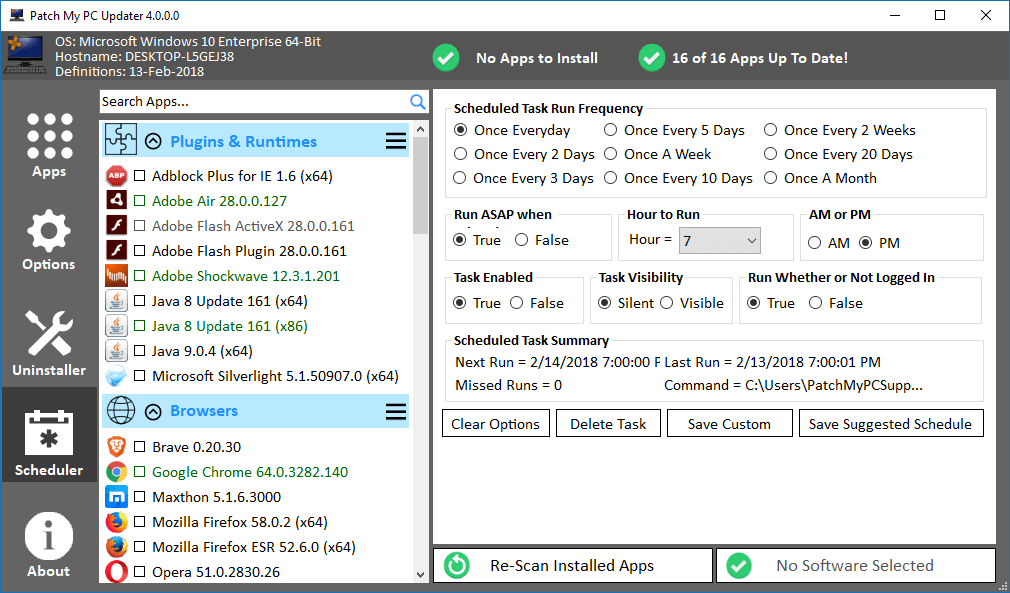 Does Patch My PC Updater Only Install Outdated Software?
No, you can actually use Patch My PC Updater to install applications even if they aren't currently install and outdated. Simply check the check box to the left of the application name to install any application even if it's not currently installed.
How Do I Update Patch My PC Updater To The Latest Version?
By default, Patch My PC Updater will automatically update if there is a newer version. You can disable the auto-update feature in the options panel.
What Command Line Options Are Available?
/s (Will run any needed updates automatically with no graphical interface)
/auto (Will run any needed updates automatically with a graphical interface)
What Do The Colors Mean?
Green

 – means the application is installed and up to date

Red

 – means the application is installed but outdated

Black

 – means the application is not currently installed
How To Report A Bug / Request Feature